When Lean principles are applied to commercial processes, the result is breakthrough improvement in revenue and profitability.
The commercial environment has become more complex due to the number and power of decision-makers, the speed of technological innovation, and the continued rise of global competition. Firms without a clear strategy do not concentrate resources on the most promising opportunities. Competitive advantages are unleveraged, and associates are not clear on priorities. With underdeveloped commercial processes, firms struggle to scale prior success to higher levels.
Accelerating profitable revenue growth through commercial excellence is key to addressing these challenges. Our team implements process-driven commercial excellence tools while simultaneously training your team for sustained use of these new processes.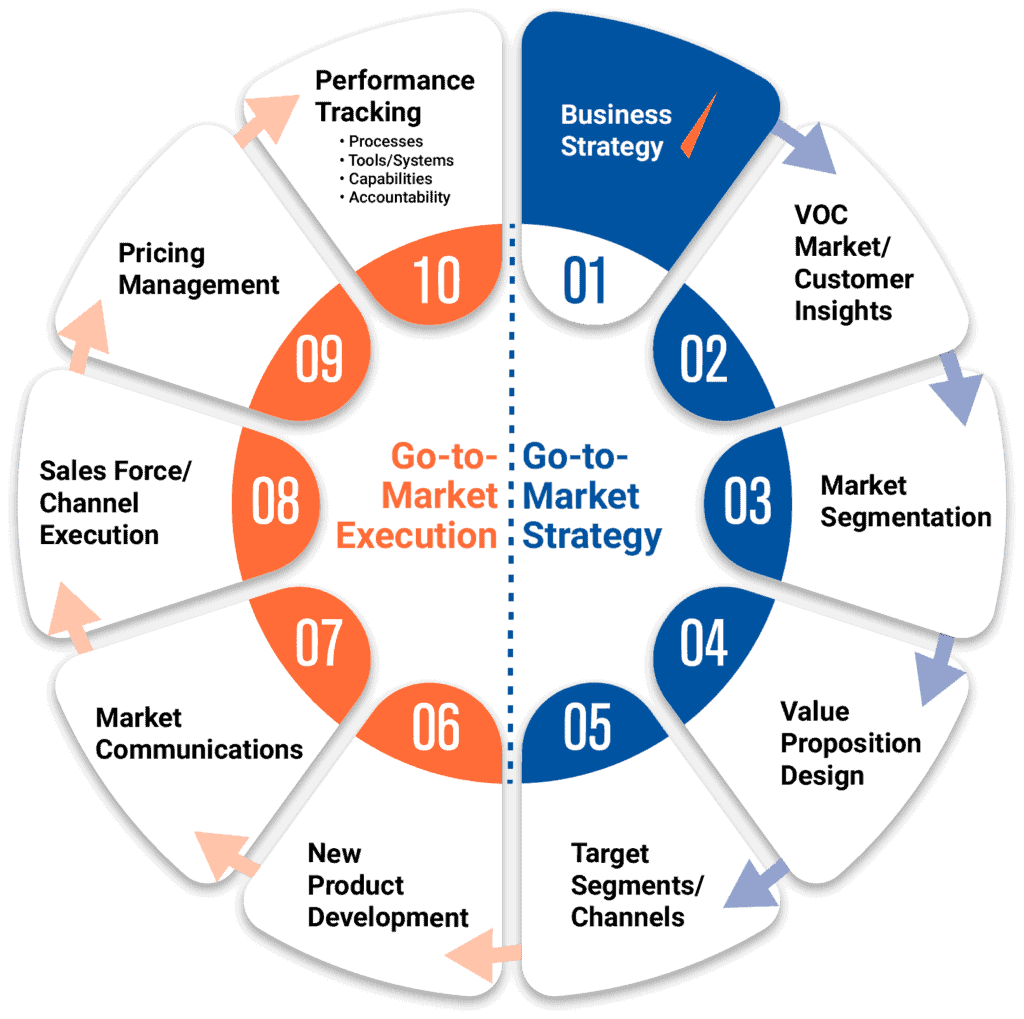 Examining your direction for growth and testing for alignment of core competencies with market opportunities often identifies missed strategic opportunities. Focusing the organization on a strong growth plan entails determining where and how to play. Differentiating your business in meaningful ways creates a competitive advantage that appeals to customers in target markets. 
Researching the voice of the customer leads to innovative products and services that provide added value in existing or new markets. By effectively communicating your value proposition with evidence-based arguments, you will stand out from the crowd.  
A clear market strategy focuses your organization on delivering winning products and services that offer differentiated value to your customers. A channel strategy that reaches your target customers efficiently further increases your success.
Accelerating profitable revenue growth requires building a strong pipeline of potential new customers in chosen market segments. It takes dedicated resources to attract new customers and build brand awareness. Companies with underdeveloped marketing functions benefit from creating robust lead generation and lead nurturing processes.
As customers move through the early stages of their buying process, educating and engaging them pays dividends in the later stages of the buying process with higher sales conversion rates and lower effective prices.
Improved sales management processes benefit the company in a variety of ways. Increases in sales efficiency ("at-bats") and sales effectiveness ("hits") increase lead conversion and put more points on the scoreboard. Performance tracking improves accountability and identifies potential areas for coaching and best practice sharing. Many sales teams benefit from training in value selling and solution selling to earn higher gross margins on their incremental new business.
Without strong pricing processes, market fluctuations in raw materials, labor, and transportation costs are not effectively passed through to customers, squeezing margins as a result. Process improvement eases the organization's ability to nimbly change prices.
NEXT LEVEL Partners works with you to assess your current commercial performance, your path to realizing your company's full potential value, and develops a customized Growth Transformation Roadmap in support of your overall business strategy and goals.
Commercial Excellence Growth Tools
Companies looking to grow faster than the market or businesses that are struggling to achieve their full growth potential may have underdeveloped commercial processes. Customers' changing buying behavior require an updated approach to communicating the value proposition through the marketing, sales, and customer service functions. Applying growth tools as part of a commercial excellence journey will help you accelerate profitable revenue growth.
Case Studies Related to Commercial Excellence
All
Commercial Excellence
A $50M medical device manufacturer, under private equity ownership, faced ...

Manufacturing Practice Leader
1-877-NLP-Lean (657-5326)
NEXT LEVEL Partners®, LLC
2338 Immokalee Road, Suite 415
Naples, FL 34110

We have delivered results in your industry: